Early Bronco electrical diagrams in COLOR!
Notes from August 2020:
I finally got around to doing the last one, 1975-1977. After the previous one, I just wasn't up to doing the letters and numbers. I still think they're readable, but not as nice. It's just a lot of work for little gain. If there's enough demand, I'll see what I can do. This one also got a new index for the same reasons as before. It's a lot clearer I think, plus it comes with a bulb chart.
1975-77 Index for combined version
1975-77 Version 1(Similar to previous diagrams)
1975-77 Version 2(Colored components)
1975-77 Version 3(Colored background)
---
Notes from September 2019:
The combined versions for 1972 had been finished for quite awhile, but I had issues that prevented me from publishing them. That got resolved and I got them on here last month. So now the combined versions for 1973-74 get on this page rather soon after even though I'd been working on them for months. These ones were a ton of work to do. I'll spare you the details, but in short, I went much further cleaning them up than I did with the 1972 ones. Anyway, Its the same story and a revised index is included.
1973-74 Index for combined version
1973-74 Version 1(Similar to previous diagrams)
1973-74 Version 2(Colored components)
1973-74 Version 3(Colored background)
---
Notes from August 2019:
I found some time to make a few combined versions for 1972. If you find one of these useful, you might want the revised index since I condensed some of the wasted space. The second one is a bit easier for me to see what is what, the third maybe a bit more so. Its up to you, but choices are good right?
1972 Index for combined version
1972 Version 1(Similar to previous diagrams)
1972 Version 2(Colored components)
1972 Version 3(Colored background)
---
Notes from around 2004:
The diagrams I used for these came from N8's site and other places.
Originally I colored the ones for '68 for my own purposes knowing it would be easier to read. After I put them here to share, I got requests to do the rest so I happily obliged, it being the least I could do to give back to the EB community which has helped me so much.
1973-74 required me finding the 'missing' 7th page which I eventually did.
1975-77 necessitated some creative changes. The originals used repeating numbers which was too confusing. I have fixed that in this set so if you save these you'll need the revised index from here as well.
If you want to print them, you'll face some challenges. All are too large to fit on one page. You could use page setup to scale them to fit, but, the earlier ones (66-71) become unreadable if you shrink them that much. The inconvenient solution would be to take the files to a print shop like Kinko's. The later ones do seem to be readable after scaling but here you end up with many pages which doesn't strike me as very user friendly. There are solutions of course, but they seem to involve a lot of time and I may or may not get around to it.
There are aspects of these I'm not impressed with aside from the above mentioned size issue. Notice that in 1975-77 the headlight switch appears three times. Couldn't the original designer find a better way? I do like the way the earlier ones are laid out. Easy to follow a wire and see what's what. I've thought about joining the pages for the later ones (1972-77). They are made in obvious page sets, but again free time may or may not happen.
1966-1967 ignition starting charging systems and gauges
1966-1967 exterior lights and turn signals
1968-1969 exterior lights and turn signals
1968-1971 ignition starting charging systems and gauges
1970-1971 exterior lights and turn signals
---
Bronco Jigsaw Puzzle (requires java plugin)
---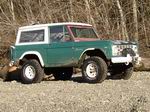 My '68 Bronco
---